Dot as a border
Raivo Kelomees "tokyocity.ee"
Although time is invisible, it is expressed by space. Raivo Kelomees' "tokyocity.ee" is in his words dedicated to the relation of time, tack and duration as well as to it's subjective sense.
The space of a city and geographical areas are understood through the meanings attributed to them.They arise in time, where people are in act. Time and space are compound together by meanings.Meanings are understood as stories, history and facts. In Kelomees' Tokyo-imaginary we see a city space impoverished by meanings, Tokyo without the compulsory adjustment of Japanese culture - as abstract patterns, graphic and auditive textures.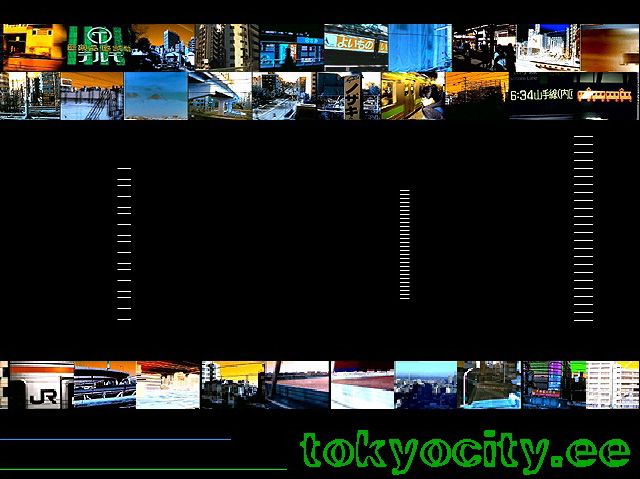 s
Parallel to Kelomees' project in City Gallery there is also opened a web page www.tokyocity.ee. The understandable word "tokyocity" is combined by artist with Estonia's domain names ending ".ee". With this aware discord he seems to reach out of the place, losing the bind with physical environment. And what kind of place this "tokyocity.ee" is? No-place, where a border lies in a dot between the words, which are filled with invertile discussions about time.
In his video, as well as in CD-ROM, we can see Tokyo views turning into abstractions, which are shots from the inner town railway Yamanote Line. They seem as they could be shot elsewhere. In a knowledge that they belong to a mythical city we notice that our expectations wreck into the meaningless and realistic picture surface.
The artist has used the starting material as a subject matter to illustrate his thoughts about the relativeness of time and sensing it's speed regarding to the "own speed" of places .To the exposition there belong a CD-ROM, video and net.project, all using their different language.
Nelli Rohtvee